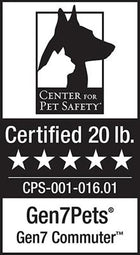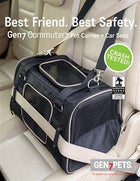 Crash tested and 5-Star rated by The Center for Pet Safety®, the Gen7 Commuter™ Pet Carrier & Car Seat, provides comfort and security while on the go. Created to give peace of mind while traveling, the Gen7 Commuter™ incorporates all the functions of a quality carrier with the restraint features to keep your carrier in place.

5-star safety rated by the Center for Pet Safety® non-profit consumer advocacy organization.
Crash Tested successfully for pets up to 20 lbs. Depending on the animal and build, the product may be best suited for dogs up to 16 lbs. Please consider your pet's build and product dimensions for the most comfortable fit.
Specially designed to utilize the seat belt latch and shoulder strap and to assist in restraining the carrier during car travel.
Employ the shoulder strap around the headrest to aid in stability.
Sturdy structure won't collapse when the seat belt is applied.
Durable seat belt latch keeps the carrier in proper position.
Heavy duty hardware, ballistic nylon, and industrial stitching.
Approved for use on most major airlines. Review your airline's regulations regarding pets onboard before traveling.
Cozy removable comfort pad is easy to clean and machine washable.
Easily transfers in and out of the vehicle.
Padded shoulder strap and easy tote handle options.
2 zippered entrances for easy access.
Multiple mesh windows for maximum ventilation.
Single tether
Folds flat when not in use.
18" length x 11" width x 11" height
Available in: Black (Model G2519BL) or Burgundy (Model G2519BU)
Maximum Weight: 20 lbs.