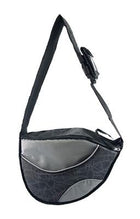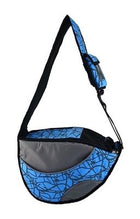 Our sporty and light-weight Messenger Carrier Bag, with its splash design, exudes a cool urban vibe to you and your pet. Sling it across your body or just carry it on one shoulder, and you and your pet are out the door in a flash.

Designed especially so that your small pet can sit comfortably on his/her front legs, peek out at the world, and enjoy the fresh air. Oh, and it's a great conversation-starter for you too! Comes with a self-locking zippered cover with a mesh window and a security leash inside the bag to restrain your pet or keep him/her stable, so you'll both enjoy a safe, uneventful trip. The hip and convenient cell-phone pouch makes it easy for you to keep in touch with your friends wherever you go. Comfortable shoulder mesh pad.

Color: Pink Splash / Blue Splash / Black Splash
Measurement: 16″L x 6″W x 10.5″H
Suitable for a pet weighing up to 18lbs.